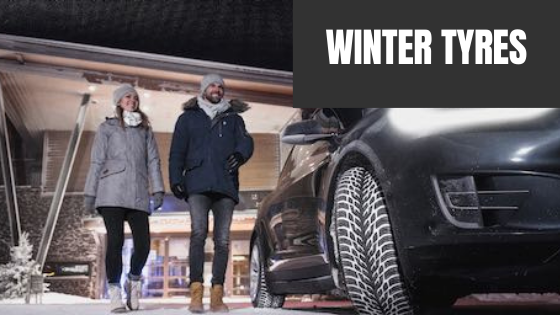 Changing tyres between summer and winter tyresis almost an art in terms of getting the date correct. It is good to know it is always better to change too early versus too late. The reason is that the summer tyres are dangerous to drive with when the temperature drops below zero. As the temperature drops, some of the key properties will decline, and since the tyre is not optimized for minus degrees, the rubber compound will become hard. A hard tyre will not be able to give you the necessary traction and grip when you drive. You need the tyre to be soft so that the rubber will be pressed into the cavities in the road surface and, in that way, create high friction.
You still don't want to change tyres too early, as wear will be higher if you drive with winter tyres in warm temperatures. For studded tyres, there are also laws regulating the dates from when you earliest can have studded tyres. For non-studded tyres, there is no earliest date. Though dates indicate from which date you have to have winter tyres on your car, where you are not allowed to drive without winter tyres.
You don't want to risk a quick change of weather and being caught on the wrong side, having the wrong tyres and in last-minute changing the service stations are always overworked with long queues. You are always better to change a bit earlier so that you don't have to worry about risking your life trying to drive to work or even just over to the service station to get your tyres changed.
As you can imagine, driving in winter conditions with wrong tyres that are not giving you sufficient grip and control is associated with great danger. It is always better to leave the car behind than to try to drive. It is not only yourself and the people in your car that you have to worry about; it is everyone else in the traffic that didn't change in time and helping to create chaos in the traffic. It can easily happen that another car or a big truck slam into your car, as they are not able to stop their vehicle at intersections, where it can get very slippery.
As the winter is approaching you should already now consider when you are going to change to winter tyres, so that you can avoid being in a situation where it would be dangerous to drive. Timely changes is always to prefer and also that you make sure that they winter tyres that you will mount on your car are in good condition and that they can handle a full winter season. If they look like they can´t last the full winter season, it might be better to already now invest in a new set of tyres that will provide better safety and will save you the hassle to purchase a new set in the middle of the winter.
For more information regarding changing to winter tyres, visit: https://www.nokiantyres.com/